PDF Mixer Review - The Only PDF Page Organizer You'll Need on Windows!
PDF Mixer is one of the most versatile PDF editors. This free tool allows numerous actions with the main purpose to create PDF files, and this includes conversion from other file formats and merging PDF files.
And the best thing is that it is a free service. All you have to do is download the app, install it, and you are good to go. You can use it on your laptop or a desktop computer, as there isn't a mobile app for either Android or iOS.
This review will give you a summary of PDF Mixer and all the features and free tools it offers its users.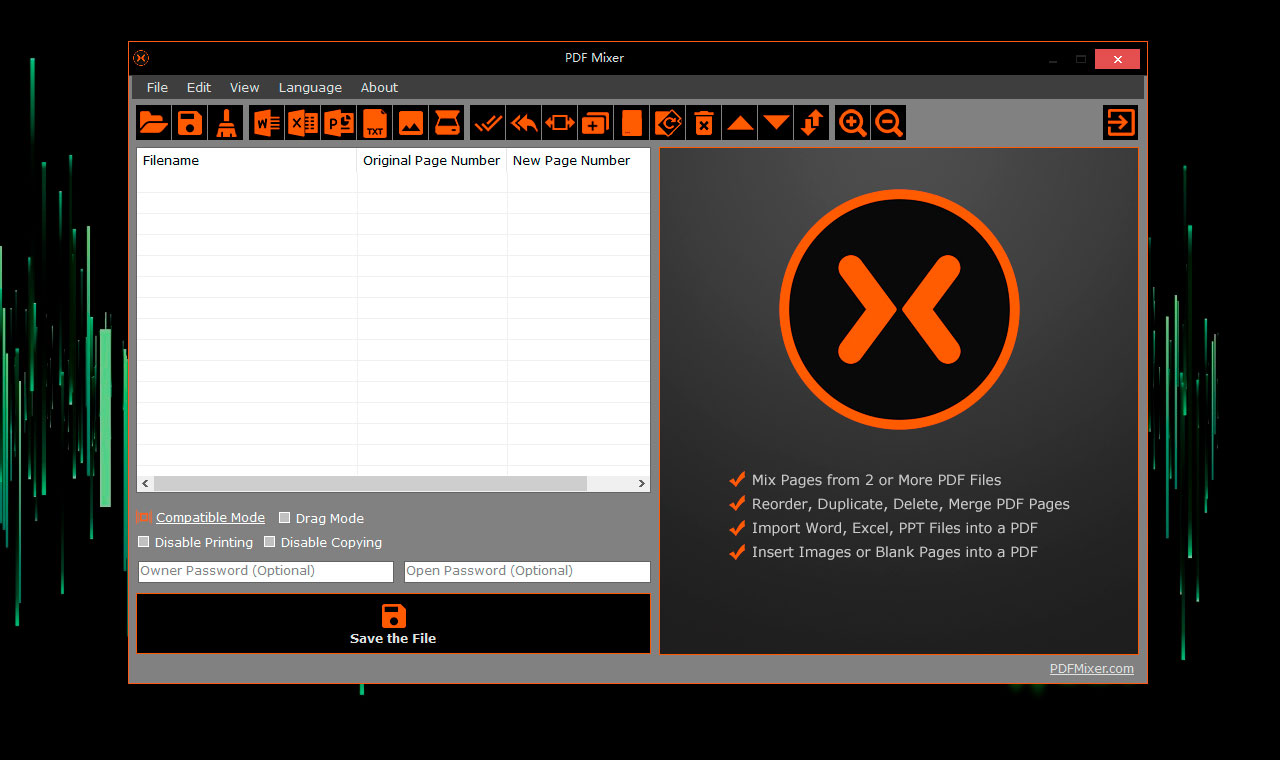 What Can I Do With PDF Mixer?
This multifaceted tool is definitely a must-have if you deal with PDFs regularly. Its software was created with all the following features:
- Convert other formats to PDF format.
- Take several PDFs and mix/combine pages from them.
- Reorder the pages from a PDF file or switch places of two pages.
- Make copies of pages or delete them.
- Rotate pages or change their orientation.
- Merge PDF files.
- Add blank pages to your PDF documents.
- Import a Word document, an Excel sheet, a Power Point slide, or a text file in a PDF.
- Import images from your computer or pages from a scanner.
- Make PDFs restricted or protected by passwords.
If you have to upload some files to your Dropbox or Google Drive, you can do any of the actions listed above with the tools this free program provides.
What Are the System Requirements for PDF Mixer?
To download and install the PDF Mixer tool from pdfmixer.com site, you need to have one of the Windows' operating systems (at the moment, it is not available for iOS).
The operating systems that support PDF Mixer are:
- Windows 11,
- Windows 10,
- Windows 8,
- Windows 7,
- Windows Vista, and
- Windows XP.
Both 64-bit and 32-bit servers can be used.
Only 35 MB of memory is needed to install the app.
PDF Mixer Features
The free PDF Mixer offers many tools to edit and combine PDF files. To upload some files to your Dropbox or Google Drive is okay, but you will probably need to download them before using them with the PDF Mixer.
In the continuation, you will read about the mix of tools that are available for free in this software. You won't feel much limit with what you can do with it.
Convert to PDF
Users can use this tool to convert their files into the PDF form. The formats that are available for this are Word, Excel, PowerPoint, Plain Text and Rich Text, and image files (for example, jpg or png). You can also import a scanned document.
You can do this by importing a file by clicking on the appropriate button on the navigation bar. When you convert them and create new files, you can merge PDF files to get a new and comprehensive document.
Mix Pages
This feature lets you take pages from multiple files and combine them to get the document you need.
This may mean that you can create a brand new document from selected pages of several PDFs. It may also mean that you can take some pages and add them to an existing PDF.
The process is simple:
- Open the PFDs (either one by one or drag and drop).
- Choose the pages and move them up or down.
- Select the unnecessary pages and delete them.
- Save the new document.
Reorder Pages
There are two things you can do here: switch places of two pages in a PDF or reorder/split multiple pages.
To switch the places of two pages, hold the Ctrl key and select them. Then, click the Switch 2 Pages button.
If you want to split or mix some pages, creating an alternative order of pages can be done by clicking the Move Up or Move Down buttons. Selecting multiple pages at the same time is possible when the Shift key is held. If you enable the Drag Mode, you can use it only for one page at a time.
Copy or Delete Pages
PDF Mixer allows you to copy one or more pages. The process is simple: select the page or pages you want to copy, then press the Make a Copy button.
Deleting pages is also a simple process that includes selection and clicking the Delete Selected button. When you do this, the pages will be deleted from the copy of the document that you are about to save and not from the original. Different file names will distinguish the two documents and you can upload both of them.
Rotate Pages
The Rotation button is there to edit the page orientation if you want an alternative one. When you choose the page(s) you want to rotate and click the button, you will be given a choice (0, 90, 180, 270 degrees).
Merge Files
Merging PDFs needs the same steps as when you add pages from a few files. Open one file and then open another one, or simply drag and drop them into the program. When you have merged them, you can rearrange the pages as you wish.
Add Blank Pages
Sometimes you need to have a blank page in your PDF. You may add it at the beginning of the file or mix it with the other pages. In PDF Mixer, there is a special button - Add Blank Pages. You can choose the page size, orientation, and how many you want to add.
Import From Other Sources
The PDF Mixer tool allows users to import pages from other sources. These include:
- Word documents
- Excel sheets
- Power Point slides
- text files
For each, there is a button on the navigation bar of the PDF Mixer window. You can mix them in one PDF or split them into separate ones. There is no limit to what you can do with this free tool.
Import Images or Scanned Pages
Users can enrich their new PDF files by inserting an image from their PC or from a paper page that has been scanned. Each of these options has a respective button on the navigation bar.
Protect Your PDF Document
You can protect your PDF document in two aspects with this tool.
- You can add a password for opening the file. To enable it, type it into the label 'Open Password'.
- You can restrict access. The PDF Mixer software allows disabling printing and copying a file. The check boxes are above the 'Owner Password' label.
Summary
PDF Mixer is free software that you can download from the web to your desktop computer and use to edit and merge PDF files. With this tool, you will have access to many useful features and have the ability to store your data in PDF form that suits your needs best. After creating them, you can upload them to your Dropbox or Google Drive cloud storage.
You can combine/mix PDF files or just some pages from multiple files and documents, add blank pages, import data from several sources, and protect your PDF documents. You can also convert other files to PDF form. You can choose an alternative program, but the UI and ease of use are something that makes PDF Mixer good to have. This free app has numerous merits, so it is a strong recommendation for anyone to try.
---

Author
Stefan Mitrovic
Back to Top
Download PDF Mixer Now!
Windows XP / Vista / Windows 7 / Windows 8 / Windows 10 / Windows 11 & Server (64/32 bit) - 34 MB