Best PDF Editing Tool: PDF Mixer, Foxit PDF Editor or Nitro PDF Pro?
Need a simple tool to get your work done but finding it hard to select one? You are not alone and certainly not for the lack of looking. There is a surprisingly low number of information available about PDF tools to make an informed decision on the software available. As it unreasonable to expect everyone to use the same shoe size, it is equally true for your software needs. In this article you will get to know about three top PDF SaaS tool to help you to find the one that is best suited for you. whether you plan to use the tools for personal or professional use you should get to know the SaaS tools because of their investment potential.


"According to Statista, "Between 2020 and 2025, the European software as a service (SaaS) market is expected to grow. Among the countries listed, Germany is expected to experience the largest increase, from 6.85 billion euros to 16.3 billion euros in 2025. SaaS is a software delivery model that offers subscription-based software to customers."
Now let's get into the conversation of the topic surrounding top PDF tools and their potentials.


What is PDF Mixer?

PDF Mixer is quite different from the others in this article and it is far more likely that you will choose this option over others. PDF mixer is fairly new in this market. It was released in August 2021. The software is not even two months old but it is already making heads turn. It is a lightweight software with multiple selling points.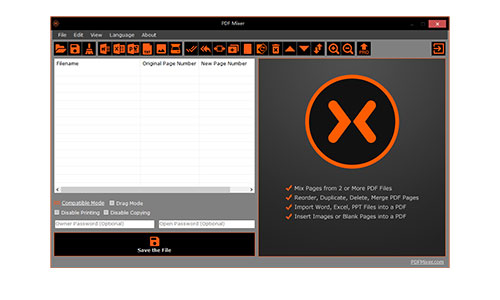 PDF Mixer is built for increasing productivity. It is faster then most other PDF tools you will come across. Whether you are a student or an office worker, it's impactful and versatile features are the ones you are looking for. PDF Mixer can mix pages from multiple PDF files into one. You can reorder, copy, rotate, delete, switch and marge pages of your document with the software. Along with inserting blank pages and images on your PDF file you can import files from MS Word, Excel, PowerPoint too. You have the option to directly import files from your scanner as well.

Along with the wonderful features already discussed one of their key-selling point is their security environment. Any average joe is including a password lock system. But PDF Mixer took it a step further by implementing partial permission on PDF files. Another selling point is the option to create PDF files directly from word, excel and PowerPoint. Their Drag Mode and Multi-Select mode is also something that is setting them apart from the rest.

If you have never used a PDF editor before, do not worry. PDF mixer has intensive guidelines to get you up-to speed in record time. They are also building a YouTube channel to give video tutorials. PDF Mixer also supports accessibility software like Text-to-Speech and screen reader, to ensure Information rights for the people with disability. Because of this feature you can publish government issued documents as well.

Now you might be wondering what do they charge for this software? Get this, PDF Mixer is a freeware, meaning it is free for all intensive purpose. They are already providing free services that others are charging a hefty amount for. PDF Mixer is also planning to revamp their software in January 2022. The new version of PDF Mixer will come with a subscription but it will include some missing options as well. All in all, this PDF Mixer is a great place to start your PDF editing journey.


What is Foxit PDF Editor?


Foxit PDF Editor is a comprehensive PDF solution that is tailored to meet the demand of businesses and professional users. The software comes with a user-friendly and intuitive interface and a set of advanced PDF editing and security tools and applications. The interface is familiar which makes the adaptation and implementation process fast and easy.

Foxit PhantomPDF provides all types of users with a full-featured PDF software that allows the users to create, edit, comment, collaborate and share. It is also equipped with organizing, security, export, scan and sign PDF files and forms.

Foxit PhantomPDF allows users to covert file formats to PDF and vice versa. It can convert your PDF file to Microsoft Word documents, Excel and other popular document formats.

Foxit offers a free trial along with multiple plans to choose from . They have two versions of the software available. One is regular and the other is a Pro version. Foxit charges $14.99 for the regular and $16.99 for the Pro version per month.




What is Nitro PDF Pro?


Nitro PDF Pro is a robust and fast Software as a Service (SaaS) made to accomplish professional tasks. It is great PDF management tool for professionals. It comes equipped with a range of functionalities to meet the demand of an office environment. Along with the basic conversion tool used for converting PDF to other MS formats, it includes, creation tools that allows you to create industry standardbred documents, Optical Character Recognition (OCR), electronic signatures and cloud integration. The best-selling point of Nitro Pro is their user-friendly ness. Anyone familiar with MS word will feel Nitro Pdf to be an extension. Because of this feature it is very easy to integrate with the office environment.

Interesting features like high quality OCR that lets you manipulate images within a document makes it unique from others. The QuickSign feature of Nitro Pro, allows you to integrate digital sign into a document, giving it a great appeal as well.

Nitro PDF Pro is priced at $179.99 USD. Making it one of the most expensive option available. It can get very expensive when you buy it for your business, as you will need to buy multiple licenses.  

Now let's Compare PDF Mixer, Foxit PDF Editor and Nitro PDF Pro side by side:


| | | | |
| --- | --- | --- | --- |
| | PDF Mixer | Foxit PDF Editor | Nitro PDF Pro |
| Free Version | Yes | No | No |
| Free Trial | Free | Yes | Yes |
| Paid Version | Free | $16.99 USD / Month | $179 USD |
| Desktop - Windows | Yes | Yes | Yes |
| On-premise (Windows) | Yes | Yes | Yes |
| PDF Encryption | Yes | Yes | Yes |
| PDF Viewer | Yes | Yes | Yes |
| Merge / Append Files | Yes | Yes | Yes |
| Page Delete | Yes | Yes | Yes |
| Multiple PDF Page Mix at Once | Yes | No | No |
| Drag Import Word/Excel/PowerPoint Files | Yes | No | No |
| Switch, Duplicate and Batch Move Pages | Yes | No | No |
| Add Blank Pages in Bulk | Yes | No | No |
(Source: PDF Mixer; Foxit PDF Editor; Nitro PDF Pro)


Conclusion:


As we are reaching the end of our discussion today, it is clear that all the software are capable of delivering great utility to its users. Their application might differ from one another but they are made to satisfy similar needs. So, who won? Well the answer is not a straightforward one. It is totally dependent on what you need and what you are looking for in a PDF editor.

Firstly, if you are not concerned with the cost and looking for an easy work integration while having all the robust and powerful editing options, you should choose Nitro PDF Pro, as the software interface is similar to MS word.

Then again, if you are looking to spend less and get a premium experience while having the software running on a Mac and PC. You should consider Foxit. Foxit PDF Editor's monthly plan is reasonable compared to the services they provide.

Finally, if you are looking for the best free PDF editing tool which has most premium features you should definitely check out PDF Mixer. It has almost all options you will need for absolutely free. The interface might need a bit getting used to but their excellent support system along with How to tutorial and FAQs will get you up and running in no time.

Regardless of the option you choose, you should definitely use a PDF editor. PDF tools offers encryption for your documents and password protection, they are editable and most importantly environmentally friendly.


---
Author
Ariz
Back to Top
Download PDF Mixer Now!
Windows XP / Vista / Windows 7 / Windows 8 / Windows 10 / Windows 11 & Server (64/32 bit) - 34 MB