6 Reasons to Choose PDF Mixer Over Adobe Acrobat for Mixing your PDFs
PDF Mixer is lightweight, easy to use software that handles all your PDF document mixing needs without a steep learning curve OR a steep fee. Adobe Acrobat has been on the market for years, making it a bit if a 'household name' in the field, so one of the questions customers frequently ask us is 'Why should I choose PDF Mixer over Adobe Acrobat for mixing my PDFs.'

We eventually decided to collect the top 6 reasons we give our potential customers in this article so we have somewhere to point them (and you) to.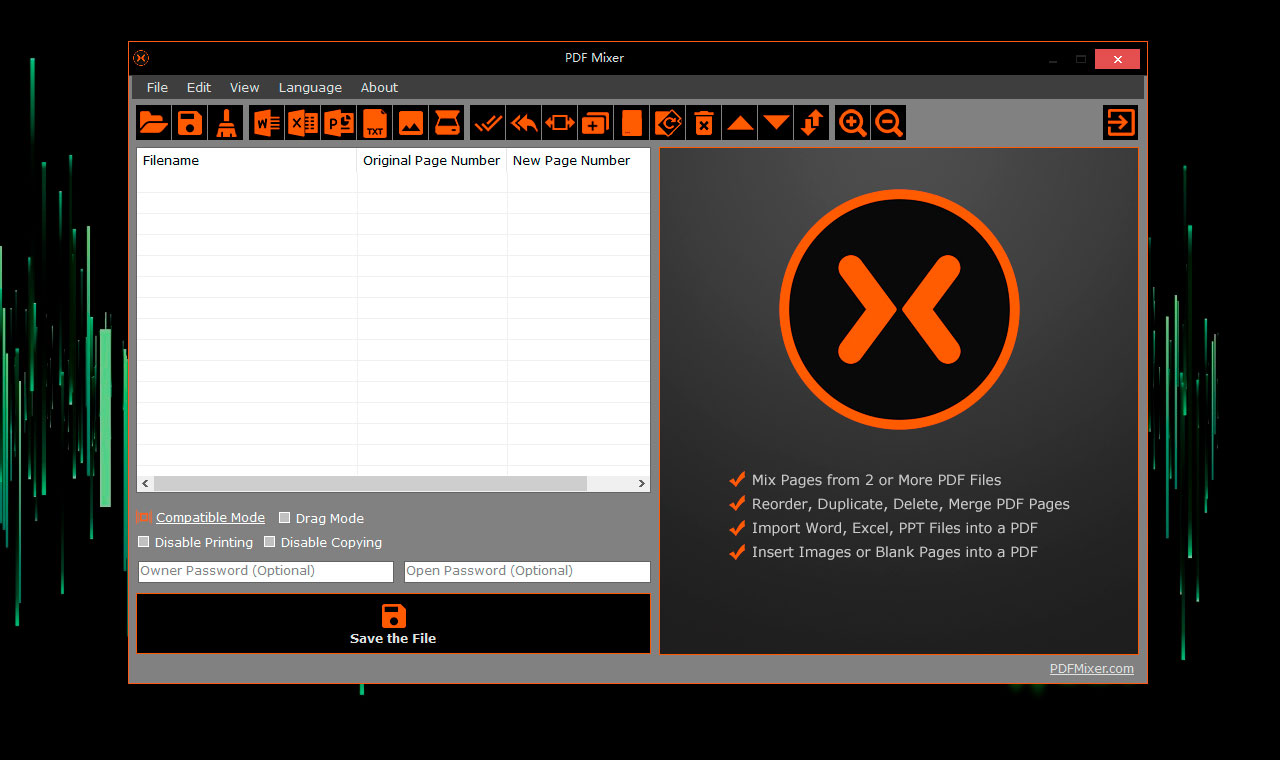 1. Adobe Acrobat costs $179 per year


Surely we could stop right there? PDF Mixer is only $29.95 USD. That means you get to mix not only PDFs, but a wide range of other file types quickly and easily for only $29.95! Adobe Acrobat costs $179 per year, that's not pocket change. Why would you pay Adobe Acrobat's high yearly rate when you can quickly and easily mix multiple document formats inside PDF Mixer for a cheaper price?

PDF Mixer offers you a faster, less complex path to creating a single PDF from multiple documents than Adobe Acrobat does, at a better price. That's zero dollars vs $179 per year. We think this one is a no-brainer (but yes, we're biased – and you should be too!).


2. PDF Mixer is super lightweight


PDF Mixer takes only 35 MB of space and running power vs Adobe Acrobat's 490MB. This means less stress for your PC and for you. With PDF Mixer you can do some pretty complex document mixing (from a wide range of formats) easily and fast, without overloading your machine and having to wait if it starts to lag.

Adobe Acrobat occupies more storage space and uses more running power to perform the exact same function (and requires more learning from you in the process). Try mixing multiple documents in Acrobat and you're sure to create additional load both for your own time (the process is more complex) and for your CPU's capacity as the program makes higher demands. Let's be honest, who has time for complex processes and lag these days?


3. Import a variety of file formats that don't work easily on Adobe Acrobat


In PDF Mixer you can import a wide variety of file types, including MS Word documents, Excel worksheets, PowerPoint slides, JPGs and PNGs and then mix them seamlessly with PDF pages. While in Adobe Acrobat you can still convert these file types to PDF, the process is far slower, and you can't mix the different files together to form a single PDF nearly as quickly and easily as you can in PDF Mixer.

If mixing different files types into a single, professional looking PDF is what you're after, PDF Mixer is the fastest, most efficient and easiest way to get it done. With PDF Mixer you can create polished PDF end products like a pro without needing hours of tutorials to teach you how. You also won't need multiple saves, exports, reopens or readds in the process. You can work with all your files inside of PDF Mixer and create one single file for a neat and slick single final export.


4. Open multiple PDF files at once and reorder or mix pages easily


While Adobe Acrobat allows you to open multiple PDF files at once, you quickly lose speed as you add files. Reordering and mixing pages between the documents also takes multiple steps and a notable learning curve (very few people have time for endless tutorials while trying to get things done in the limited time frames we are asked to work in these days).

With PDF Mixer you can easily open multiple PDFs at the same time and reorder or mix pages between the documents to create a final document that looks like it's been crafted by an expert. The process is extremely easy to follow, and you can move swiftly between documents with just a few clicks. With PDF Mixer you'll be able to create brand new PDFs from multiple different documents without feeling like you're going to tear out your hair with frustration or miss a deadline.


5. PDF Mixer allows you to switch, duplicate, reorder pages or add new blank pages with 1-click


Sounds too good to be true, right? But we kid you not, it's real! PDF Mixer's single click function means that you can duplicate pages, reorder them, switch the order of pages and even add new blank pages with quite literally just one click. Superhero-like even! AND they'll look good once you do! PDF Mixer turns you into a page switching, document mixing ninja overnight, and who DOESN'T want document mixing ninja status?

When's the last time you tried to perform any of these functions on Adobe? If you have, you'll know that the number of clicks required is well into the double digits, probably with a few exports and resaves along the way. And if you haven't yet, PDF Mixer can save you the headache. It's the far simpler, hassle-free way to create the high-quality PDFs you need. It doesn't matter if they are for university, school, a resume, an ad campaign or a high-profile business presentation, PDF Mixer has the fast and efficient capacity to fulfill all your PDF needs, without the headache.


6. PDF Mixer can reorder mutiple PDFs by simply dragging and dropping them in the page list


What could be simpler than a drag and drop? With PDF Mixer that's all you need to do to reorder your pages between multiple documents. Drag and drop. Simple as that. You could probably teach your mum to do it in less time than it would take you to learn and master the process of mixing PDF pages inside Adobe Acrobat.

At PDF Mixer we understand that time is money – saving both is why we've created our innovative software. When faced with the choice between using our lightweight, easy and efficient program at a lower cost and paying for the complexity of Adobe Acrobat, when it comes to mixing and reordering multiple file types into a single PDF, there really is no difficult choice to make.


---

Author
Bronwyn MacRitchie
Back to Top
Download PDF Mixer Now!
Windows XP / Vista / Windows 7 / Windows 8 / Windows 10 / Windows 11 & Server (64/32 bit) - 34 MB